Who is OPG+ And What Do They Do?
OPG+ is an environmentally safe cleanup company that uses nature's own remediation process that has been effectively eliminating hazardous materials since 1989. Below is additional info about OPG+ the company, services and products, certifications, team members, as well as photos and videos.
OPG+ The Company
Remediation products and services is what we do best. Our all-natural cleanup techniques are beneficial to both the environment and our customers. OPG+ uses nature's own processes to break down hazardous materials. This same formula has helped clean up large-scale environmental disasters since 1989. We deliver it to our customers via our team of mobile service technicians – as well as in our retail products.
OPG+ is proud of our role in protecting the environment, while providing great service. We understand how important it is to clean up hazardous spills in a way that is both fast and cost-effective. Our goal is to reduce cleanup costs while eliminating hazardous waste problems.
OPG+ Services and Products
OPG+ is a revolutionary product to clean up oil, petroleum, and grease spills. We offer live demos, since it is important to us that clients see how amazing this formula is with their own eyes. Plant enzymes convert waste into food for the bacteria that are present in the area. Approved for use all over the world, our all-natural process leaves behind only CO2 and water. This eliminates hazardous waste on-site with no secondary cleanup required. Restoring the area faster than other cleanup methods, at a fraction of the cost. Our team strives to arrive at damaged sites within hours.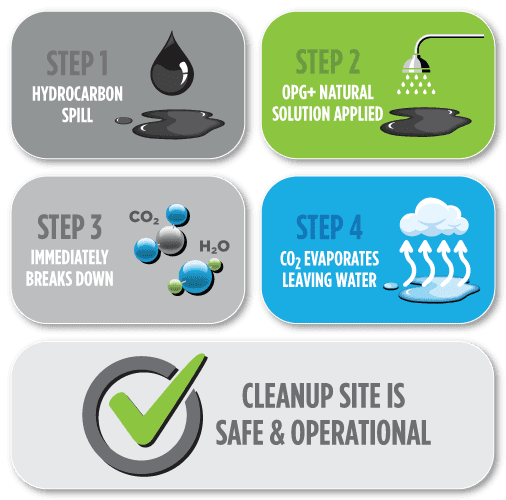 Our retail products sold online contain the same natural solution that we use in the field. Packaged in a variety of different sizes, they are perfect for individual use. There are countless applications including kitchen, tools, driveways, and floors.
OPG+ Certifications
As a 100% biodegradable and non-toxic product, our formula has achieved many certifications. Mitigation of hazardous spills is an issue that spans the globe. OPG+ has received an array of credentials, allowing its use anywhere in the world. The US Environmental Protection Agency lists OPG+ on it's reaction plan for oil spills. The Occupational Safety and Health Administration has given us their seal of approval. We have also gained clearance through departments of environmental protection in several states. We invite you to browse all OPG+ Certifications.
Meet Our Team
Our team members are the face of OPG+. It is important that every member of our staff is as excited about our product as the CEO. We have selected field professionals who excel at customer service. Like us, they are passionate about protecting the environment. Each of our technicians pride themselves on providing fast remediation products & services. Read bios and learn more about each member of the OPG+ team.
Photo & Video Gallery
See the power of OPG+ environmental remediation with your own eyes! Browse our collection of before & after photos from contaminated sites. View accounts of successful oil spill cleanups and rescued wildlife habitats. Watch amazing videos of our product in action, as implemented in assorted cleanup projects. Harmful materials vanish from water, dirt, asphalt, glass and more. You have to see it to believe it in our OPG+ Photo & Video Gallery.
OPG+ Subcontracting
OPG+ is available to lend support to larger environmental remediation companies. National businesses subcontract out some of their smaller cleanups. This lets them provide a convenient "one-stop-shop" to customers. We are happy to lend a hand as a subcontractor within our service areas. Large-scale national companies cover remediation for all types of environmental cleanup situations. This includes air pollution, debris removal, dewatering, biohazards, and many others. Learn more about how OPG+ Subcontracting can help your business.