OPG+ is an in-situ oil and fuel clean up and remediation service that is environmentally friendly and a fraction of our competitor's cost.
24/7 Mobile Service
EPA Approved
Eliminates all hydrocarbons related to an oil or fuel spill on site
Fuel rendered completely non-flammable in as little as 5 minutes
No digging up and removing contaminates, the oil and fuel hydrocarbons are turned to water and CO2 on site
Differentiators
On site response within 1 hour
Available 24/7, 365 days per year
Effective on all surfaces including concrete, asphalt, soil and waterways
Nontoxic, biodegradable and harmless to humans, animal and marine life
Less expensive than other clean up solutions
Oil and fuel turned to water and CO2
Listed on the EPA's NCP (National Contingency Plan)
Past Performance
OSEII has been a chosen spill remediation solution by the US Department of Defense since 1994 and US Coast Guard. For additional case studies visit: osei.us
OPG+ supplies remediation services to several national equipment rental and construction agencies.
For example, a piece of rental equipment failed, resulting in 45 gallons of hydraulic fluid being spilled. The hydraulic fluid was pooled on soil and around a storm water drain. OPG+ was called and remediated the site within 3 hours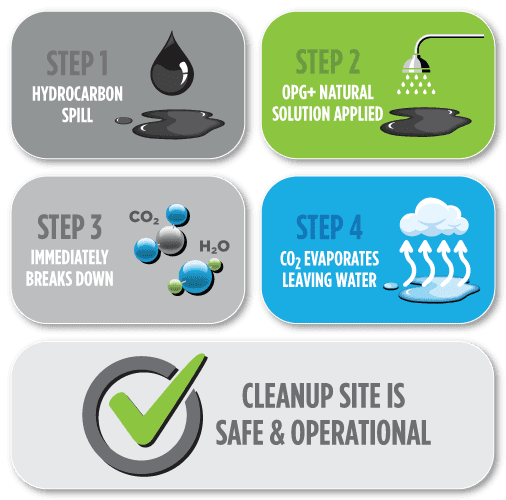 Company Data
OPG Plus LLC is a US based company established in 2017 to satisfy a growing need for natural, quick and effective spill remediation.
OPG+ has secured the license to service customers using Oil Spill Eater II (OSEII). Manufactured by Oil Spill Eater International Corporation since 1989. OSEII has a long and proven record of success, remediating over 36,000 spills across the globe
Pertinent Codes
Listed on EPA's National Contingency Plan
DUNS: 081254312
CAGE: 852T5
NAICS: 562910
Small Business
ACH and major credit cards accepted
For further information about how OPG+ can assist your business please contact:
Matthew Kemper [email protected]
Antonia Duncan [email protected]