OPG+ is an in-situ oil and fuel clean up and remediation service that is environmentally friendly and a fraction of our competitor's cost.
24/7 Mobile Service
EPA Approved
Eliminates all hydrocarbons related to an oil or fuel spill on site
Fuel rendered completely non-flammable in as little as 5 minutes
No digging up and removing contaminates, the oil and fuel hydrocarbons are turned to water and CO2 on site
Differentiators
On site response within 1 hour
Available 24/7, 365 days per year
Effective on all surfaces including concrete, asphalt, soil and waterways
Nontoxic, biodegradable and harmless to humans, animal and marine life
Less expensive than other clean up solutions
Oil and fuel turned to water and CO2
Listed on the EPA's NCP (National Contingency Plan)
Waste Industry Capabilities
Quickly eliminates the smell of garbage juice, oil and gas through a neighborhood.
Safe around lawns and pets
Does not damage concrete or asphalt
Free quotes
Only one invoice per job, regardless of how many treatments are required
Continues to treat the stain and significantly lightens or removes – Great for HOAs and customer driveways
We clean containers, trucks, equipment, shop floors & wash pads at your facilities
24/7 service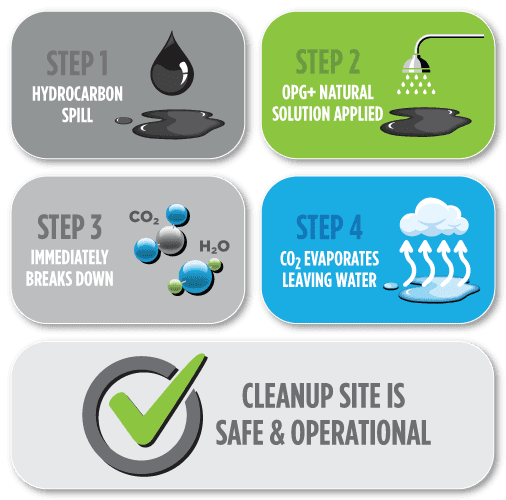 What is OPG+?
OPG+ Cleanup service utilizes a 100% biodegradable product that is the world's most environmentally safe and cost-effective remediation process for the mitigation of hazardous spills. Whether it's oil, petroleum, grease or organic material cleanup, OPG+ will quickly make your site, vehicle and your business, safe and operational again!
A Natural Process
OPG+ is a biological enzyme that converts the waste into a natural food source for the enhanced native bacteria found in the environment. The end result of this process is CO2 and water.
For further information about how OPG+ can assist your business please contact:
Matthew Kemper [email protected]
Antonia Duncan [email protected]
How OPG+ Can Help
OPG+ offers a safe, environmentally friendly, and sustainable cleanup solution for oil spills that uses native bacteria and microbes. When it comes to hydraulic oil, OPG+ knows how to quickly and efficiently clean up a spill using a biodegradable formula that is non-toxic and won't cause harm to a golf course's grass. Hydraulic oil spills cause damage that can be harmful to the health of local residents and wildlife, so using a cleaning process that won't introduce more toxins to the area is the best way to go.
Contact us today to request a demo or find out about our emergency cleanup services!